Genesis
Genesis is a Java desktop application, that runs on Windows, MacOS and Linux. You can download it here.
Note: For those of you using neither english nor german as the operating system language, it might be necessary to go into the settings, choose English as the application language and start Genesis again.

Genesis is free, but we really appreciate when user like our application that much, that they want to donate to us and help us pay server rent or simply to thank us for our efforts.
Download of Genesis 7.0.5
Installation and start
Important: If you already have Genesis installed in an older version, uninstall it manually before you install the new version.
The installer installs (likely without further questions) the application on your computer. After a successful installation, you should find two launchers on your computer.
Genesis / Genesis-HiDPI
Die normal application and most likely the one you want to execute.
Genesis-Staging / Genesis-Staging-HiDPI
The same application, but for the more daring among you. It uses Beta versions of the plugins, if there should be any.
You can switch between both versions as you like – each launcher has its own storage for plugins and writes its own logfiles. Only the characters are managed at the same place for both versions.
The HiDPI variants are intended for users with a HiDPI display, where the application is auto-scaled by the operating system and too large. These variants disable auto-scaling in favor of a fixed scaling.
In case of an error
We are not perfect and it will most likely happen that you run into bugs that we did not notice yet. In case you find such a bug, please try to decide if that is an error that is common to all roleplaying systems or a one that only exists for a specific RPG.
Common/General Errors report here.
For errors specific to a roleplaying plugin, consult the plugin overview, where the author of the plugin wants to have errors reported. To find that information, open the "Settings" and than "Plugins", select the plugin that you find likely to be the origin of the bug – at the right side of the window you find that information.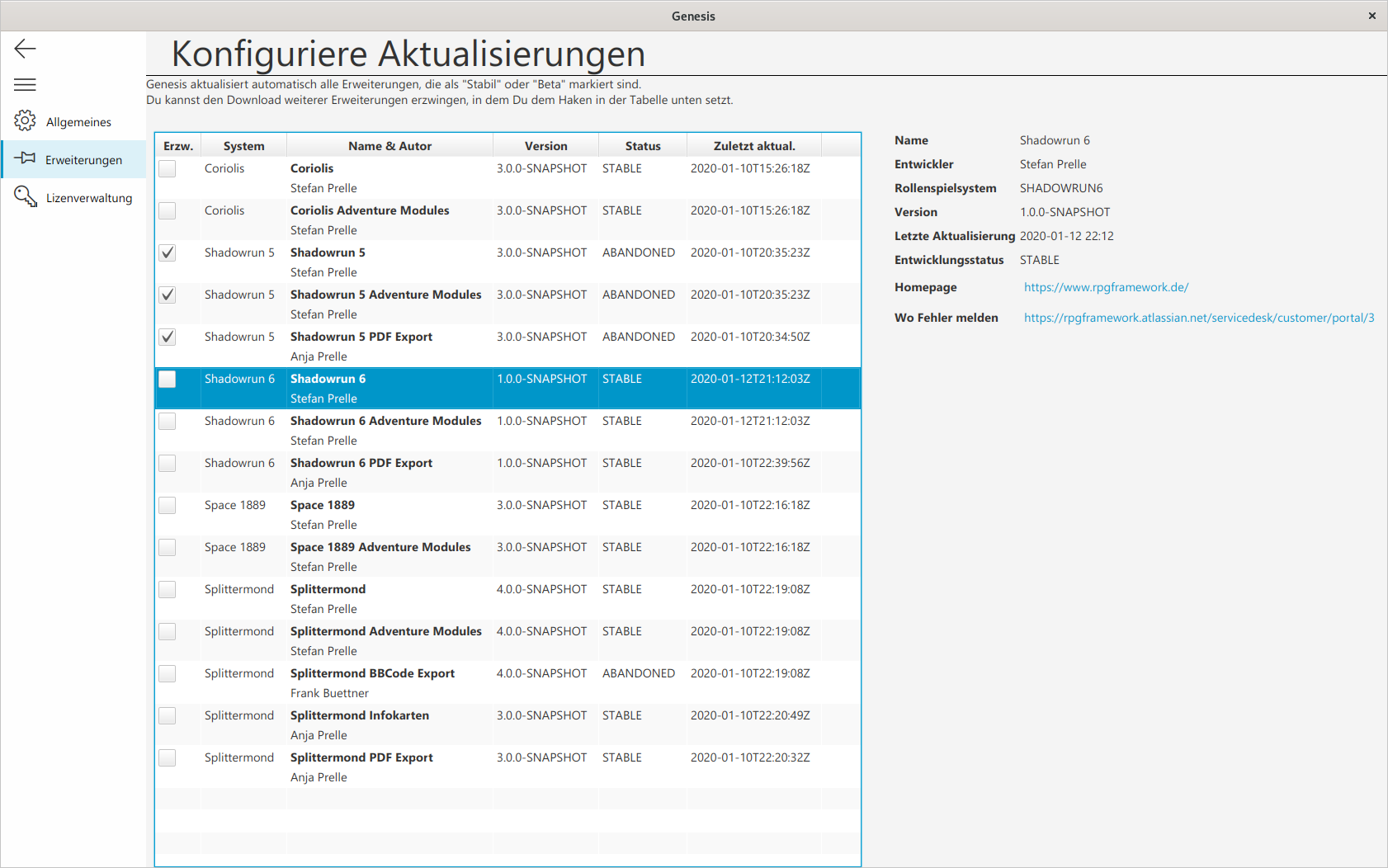 For nearly all plugins where either Anja or Stefan Prelle is listed as an author, this is the suitable ticket system.